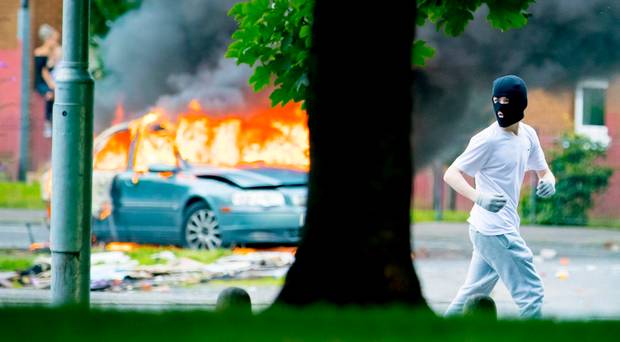 Belfast erupted in rioting last night as youth attacked the scum PNSI (replacement for the much hated RUC, to try give them a so called more human face, yeah right!) with petrol bombs, bricks and bottles being thrown at riot units and their anti-riot vehicles.
The trouble started after the city council removed material intended to be burned in bonfires at anti-internment protests. Bonfires are traditionally lit in some republican areas to mark the anniversary of the introduction of interment – detention without trial – on 9 August 1971 to combat uncontrollable rioters including youth and also members of the IRA. Sinn Fein and the old IRA had stopped the bonfires, but the recent dissident IRA groups who are critical of the peace process, the old groups and Sinn Fein's participation in the local government, have revived the tradition.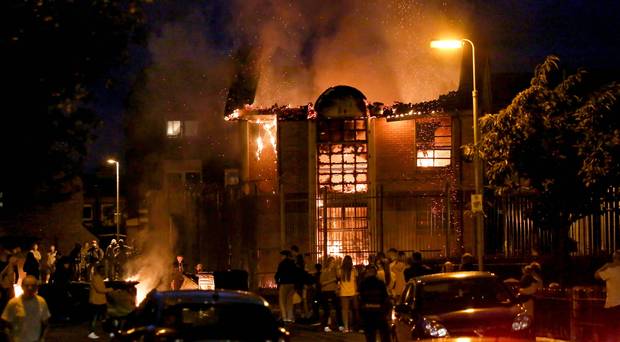 During the night of rioting the Credit Union office building in the Lower Falls area was torched and surrounded by a large gang. The youths torched the building in the Divis area of the city on Monday evening in disturbances linked to the bonfire dispute. Masked youths also tried to hijack a number of buses travelling along the Falls Road resulting in transport services being suspended in the city. There were also reports that the violence has also spread to the republican New Lodge district in the north of the city. Up to 20 cars were vandalised, with at least two vehicles set on fire during the disorder which lasted several hours.
Last week, Belfast city council backed a Sinn Féin proposal to allow council officials to seize material from so called illegal bonfires. Contractors took away wood and other materials for the local bonfire in the early hours of Monday morning. Several hours later cars and other vehicles parked close to Belfast's central station were vandalised or set alight. Masked youths later threw petrol bombs and other missiles at cop land rovers in Friendly Street close to the edge of the Market area.
FUCK INTERNMENT! FUCK BRITISH IMPERIALISM!