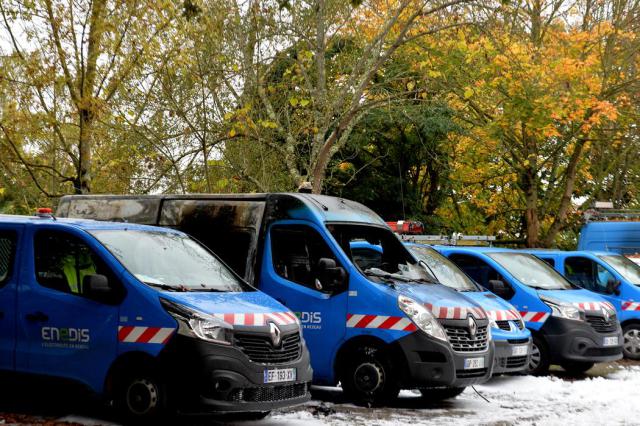 Via: 325
FOTH: We post this as another example of an attack upon the capitalist energy infrastructure that is the civilization that controls our lives!
Note from Insurrection News, 25.10.17: During the night of October 23rd to 24th, a fire destroyed twenty vehicles belonging to the company Enedis (formerly known as ERDF), the electric power grid operator for most of France. Graffiti was left at the scene reading 'LINKY GET OUT OF HERE!". The next day Le Populaire du Center, a mainstream newspaper in the region announced that they had received a short communique from an anonymous group of women, using the acronym DECCLIN, claiming responsibility for the attack.
According to the communique, the women who carried out the arson attack did so to protest the lack of action by the authorities against Linky so-called 'smart' meters. Linky meters are basically a type of mini-computer similar to meters used in other parts of the world that are installed in homes to allow power companies to monitor electricity useage.
There has been a significant campaign against Linky meters since the company began rolling them out to households across France two years ago. People opposed to the Linky meters are concerned about possible health risks associated with them, particularly to people who are electrosensitive. There are also concerns that constantly being in close proximity to smart meters could potentially cause life-threatening cancers. Activists are also concerned about privacy and surveillance issues surrounding the meters and see Linky as a 'Trojan horse' that is being used to harvest vast amounts of data regarding the activities of people who have Linky installed in their homes.
Enedis have been targeted on previous occasions. In May 2016 an unknown group of incendiaries targeted Enedis in Grenoble – 12 vehicles were destroyed by fire.
Below is our English translated version of the communique claiming responsibility for the attack in Limoges. As always we welcome any corrections of our translation, or the additional information we provided above, from our French-speaking comrades, as French is not always the easiest language for us to translate…

Faced with the inertia of the public authorities, we DECCLIN, a group of women opposed to Linky smart meters decided to take action (last night, we torched some vehicles belonging to Endedis, the promoter of these meters).
Inertia in the face of major problems: poisoning of the population, waste, pollution from the electromagnetic waves, increased bills, not to mention the forced imposition of the meters and the intimidation by Enedis sub-contractors.
Finally, the meters may be responsible for fires that could very well spread everywhere and hinder our devoted schemers in their juicy business.
DECCLIN,
Des Élus Contre les Compteurs LINky
(People Against Linky Meters)
(Information collected & translated by Insurrection News from the anarchist blog Attaque and various French-language mainstream media outlets)