Info is filtering through of a riot last night in Forest Gate, London during a protest at the killing of 25 year old father of one Edir Frederico Da Costa (known as Edson), after he was beaten brutally during a stop by cop assassins. Protesters claim that Edir had CS spray used aginst him, suffered from a broken neck or other spinal injuries and that he had bleeding to the brain countering the claim of the postmortem which they say is covering up the real violence of the racist Met cops. Edson was stopped in a car with three others by cops which has become too much of a repeated sight in the outer areas of London, stopping those of a different background, stigmitised by the state & media as a criminal element.
Earlier on Sunday evening, Head cop assassin Ian Larnder stood in the middle of a group of protesters outside Forest Gate cop shop spilling out lies and trying to calm tensions, which obviously did not work as the people from the area were not taking his lies. One protester rode his motorbike up to the riot cops line which was two cop deep outside the cop station and revved his engine in front of cops as music started to boom out across the crowd. Another motorcyclist turned his bike towards the cops and span his wheels so that smoke blew towards them in a sign of defiance, almost like a declaration of war.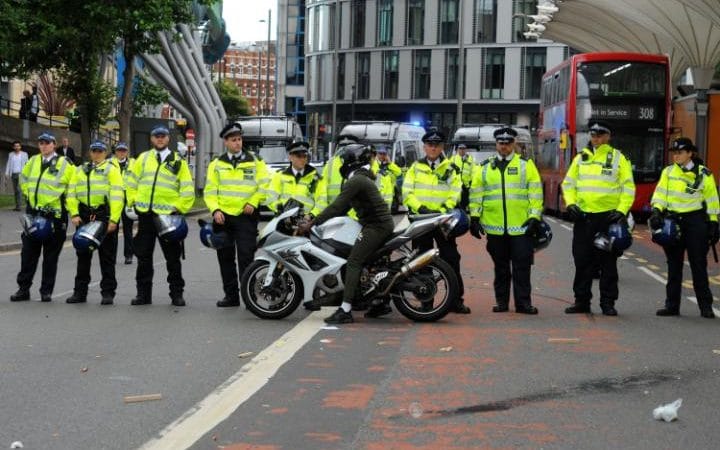 The anger boiled over from those not convinced or who didn't care for the cops lies, rioters broke off into small groups with faces covered, dressed in black, ripping bricks from a nearby wall and along with glass bottles rained them down on cops, even cop cars were attacked in the outpouring of rage, planks of wood used to put through one cop car windscreen. Six feds got what they deserved, with four taken to hospital. A head cop had facial injuries while another suffered head injuries. Dumpsters and bins could then be seen to be set on fire nearby, firefighters were attacked with bottles for trying to douse burning barricades, chants of "no justice, no peace, no racist police" and "f*** the police" started, a cordon of riot cops, some with dogs, pressed demonstrators further down the street, as the tension started to mirror that of the Tottenham riots in August 2011 that spread like wildfire to the rest of the country.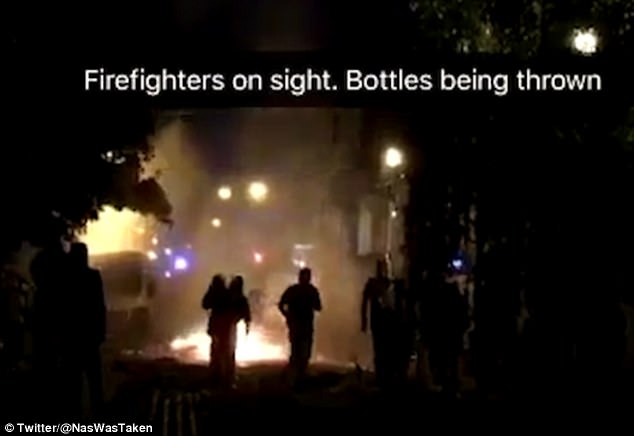 The usual anti-violence cowards moved very quickly to claim that it was them who had organised the protest but had not brought the violence, saying it was provocateurs. This is typical of peaceful elements who do the job of the state and cops, trying to dampen down the vengeful rage of those who suffer the cops violence everyday of their lives.
The violence and amount of rioters on the street only died down after 23:00 last night. Mainstream media scum is trying to dampen down the intensity of the riot but footage coming out on social media is showing a completely different story with running battles with masked rioters and cop cars being attacked. This is clearly an attempt to prevent the rioting from breaking out anywhere else as the fear of August 2011 rears its head.
The people who gathered outside the Forest Gate cop shop on Sunday also alleged that Da Costa was "brutally beaten" and some of them highlighted other cases in which black people have been killed and hurt by the police in the past. The list is endless from Mark Duggan to Sean Rigg to Cynthia Jarrett to Smiley Culture.
As a well known Reggae poet once wrote and sang:
"It was in April, nineteen… eighty one
Down 'n' on dee ghetto of Brix-ton
Dat deh Babylon dem cause such a fric-tion
Dat it bring about a GREAT insohreck-shun
And it spread all over deh nay-shun
It was TRULY an historical occas-sion
It was event of deh year and I wish I had been der
When we run riot all over Brixton
When we MASH up plenty police van
When we MASH up the wicked one plan…"
– Linton Kwesi Johnson, 'Di Great Insohreckshan'