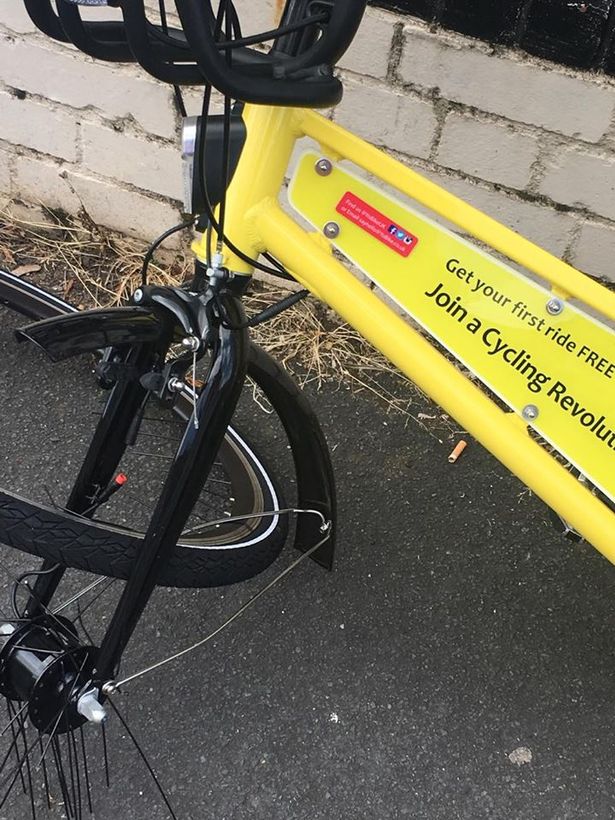 Bristol was the first city in Europe to get the rental scheme and is acting as a trial before other cities get YoBikes. There are currently 800 YoBikes in Bristol after the scheme was rolled out to great fanfare from local capitalism and authorities in early May with 300 bikes and 500 more recently added to the fleet. The company has been forced to recall around 100 of the rental bikes due to regular vandalism.
From YoBikes thrown into rivers to Yobikes hilariously stuck up trees, there have been a few dedicated vandals who have done their best to ruin it for the new 'green capitalism' a contributor to further gentrification such as occurred in London with the 'Boris bikes.' The company even goes as far labelling their bikes with 'Join a Cycling Revolution.' More recently vandals seem to have been getting creative with their YoBike sabotage of the scheme – with one of them recently photographed 8ft off the ground – in the branches of a tree.
Panicking local authorities are warning that if the attacks do not stop then the scheme will be ended in the city and damage the possibility of it it being implemented elsewhere. (OH DEAR, WHAT A PITY!!!)
FUCK THE 'CYCLING REVOLUTION!'
[UPDATE 4th July] : Scumbag mainstream media in Bristol are saying that the scheme is being withdrawn from the South of the city after the persistent vandal attacks. Capitalist scum YoBikes are claiming it will only be temporary but no date has been set for their return yet. Info is also coming in of bikes removed from positions in the North too! In all the scheme seems to have only lasted two months.
Yoyoyoyo! Respect to the Bristol vandals!