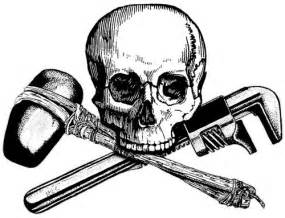 A drilling rig owned by one of the polluting scum fracking firms has been seriously vandalised, intended to stop the embryonic shale industry on prison island.
Between 18 and 24 May, a facility near Chesterfield run by PR Marriott was infiltrated, prison islands largest onshore deep drilling company, which stores and maintains the rig on behalf of scumbag shale gas firm Cuadrilla. Once inside, they caused what the authorities described as "a large amount of criminal damage" to the rig. The rig was attacked with sledgehammers to smash its touchscreen computers and windows. Components were drilled out, while pneumatic pipes and electrical cables were cut.
In January, Cuadrilla started work on a site in Fylde, Lancashire, where later this year it wants to destroy the enviroment by fracking the first well in the UK since 2011. Anti-fracking campaigners have staged daily protests outside the fences of the site on Preston New Road. Protesters have also successfully pressured subcontractors into ending their agreements with Cuadrilla.
The mainstream media understands that the damage at PR Marriott was to a Drillmec HH220, a mobile rig which it is believed was intended for use during the main drilling stage at Preston New Road. The yard in Danesmoor, between Sheffield and Nottingham, has been the target of protests by anti-fracking protestors. Campaigners have blockaded the company several times – 11 people were arrested at one demonstration there in April and two more were arrested on 30 June, one on suspicion of aggravated trespass.
One protester outside the site, told the local media scum: "We'll be here until that [the drilling rig] is removed." Even the company scum admit: "It's disrupting our business, there's no two ways about it."
It is not yet clear what the impact has been on Cuadrilla. The company's timetable for Preston New Road appears to have slipped – it had originally hoped to drill in the spring, with fracking it towards the end of the year. Surely the sabotage has put a spanner in the works.
Another shale company, IGas, hopes to begin drilling in Nottinghamshire in the last three months of the year, but does not yet have permission for fracking. The only other company preparing to frack later this year is Third Energy, which has permission to frack in Kirby Misperton in North Yorkshire.
Time to put an end to the fracking before it happens, attacking the infrastructure of these companies before they begin is the only way!