Another riot erupted in North London on Friday evening by youth angered over the cop killing of Rashan Charles, who was suffocated to death after being chased in to a Dalston shop by pursuing cops.
Dozens of enraged people gathered outside the shop where Charles was pinned to the floor by the killer cops in the early hours of Saturday morning (22 July). The 20 year old was taken to hospital and died a short time after.
The angry masked youth present at the demo pushed mattresses, wheelie bins, traffic cones and rubbish into the street, stopping cars from passing. Several vans of riot cops sent to control the demonstration came under attack, with the protesters hurling bottles and other missiles at the cops.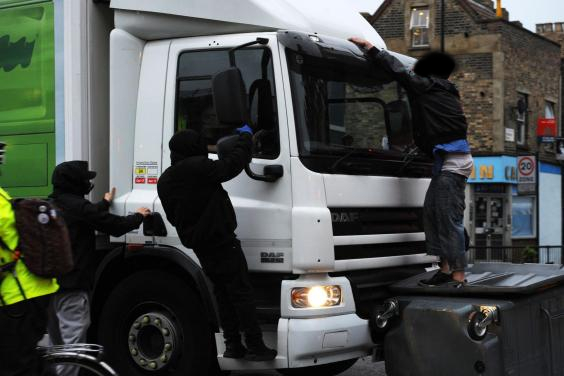 One stupid heartless lorry driver who was more concerned with losing time on the job than the death of someone at the hands of the cops, drove through the barricade, hitting the wheelie bins lined up in its path, protesters jumped on board, clinging to the window, while one sat on a bin which was pushed along by the vehicle. A man clambered on to the roof but the lorry continued to drive with people throwing bottles at it.
Several wheelie bins were set alight at the barricade and a mattress thrown on top of the burning pile sent black smoke spiraling into the air. Fireworks were launched towards the cops as a helicopter could be heard circling above. Soon cops on horses and others in riot vans were deployed as the feds tried to contain the disorder and break up the groups of protesters. The youth were able to push back the cops into retreat three times before the disorder calmed down. At one moment the uncontrollable youth set upon a Barclays bank on the road while others kept the riot cops at bay. Windows were smashed in several Kingsland Road shops, and some restaurants in the area pulled down their metal shutters, trapping customers inside, as the protest became more violent, turning into a full on riot. Videos posted online show people confronting a line of cops armed with batons as they tried to clear barricades off the road.
Earlier in the week in a protest on Monday, at least 150 people marched on Stoke Newington cop station. Some carried placards which read "Black Lives Matter" and the crowd chanted "No justice, no peace". The cop head killers are claiming the usual lies that Charles just as the killing of Edir Frederico Da Costa last month, swallowed a small package believed to be drugs, which now seems to be the standard cover up statement after a cop kills someone.

THERE ARE RIOTS COMING!