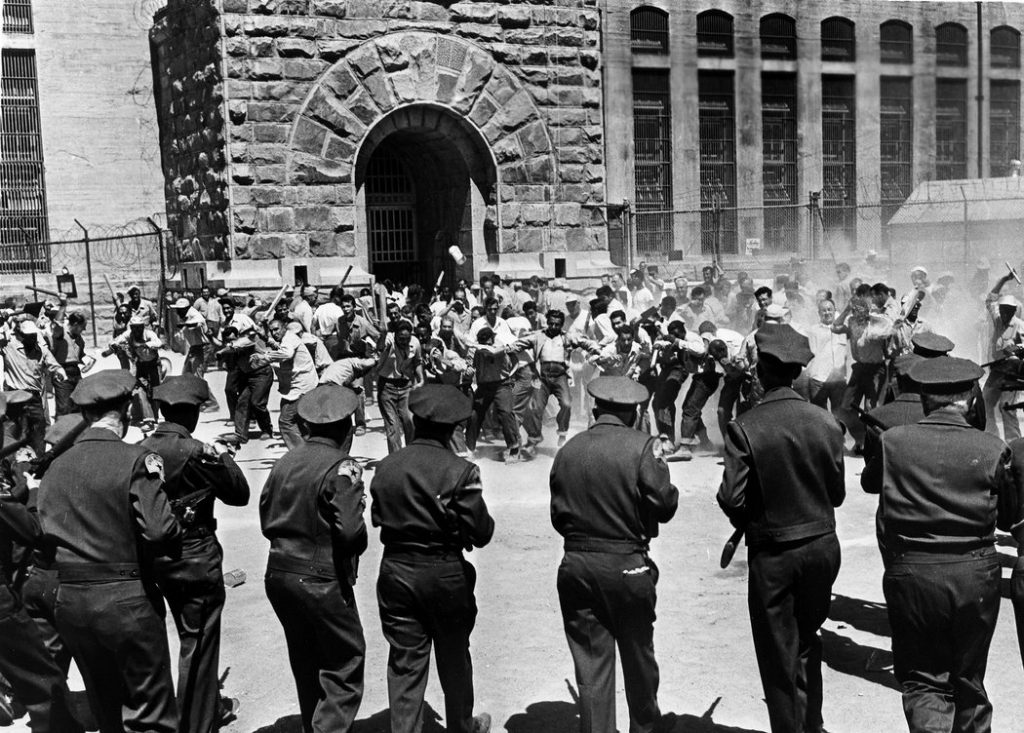 Hundreds of prisoners at HMP The Mount, Hertfordshire, have had screws and cops on the run last night after they rioted, taking over two wings in the prison just a week after another riot at HMP Newell. 'Tornado' riot squads were called in to take back control after furious prisoners had been on lockdown for two weeks without being let out their cells at all which is commonly accepted as a form of torture! Some prisoners say the authorities have not let them have showers, change clothes,  make phone calls and have only been given cold food through their doors by screws for a fortnight. Other services such as religious services and education/work sessions had also been cancelled for the weeks of isolation.
As a text from someone inside the prison claims 'we had the screws running scared' and promising further trouble today. A video online shows the extent of the riot as it took hundreds of riot cops to enter the prison to put down the disorder. Further footage shows prisoners rampaging through the prison wings, smashing barred windows and setting fires in the chaos that erupted about 2am. A woman who said her son is an inmate explains: "My son is at The Mount he has been on 24 hour lock down for weeks." The riot began when prisoners where finally let out after weeks of isolation, they refused (not surprisingly!) to re enter their cells after the exercise period of two hours, they then took over the two wings by force.
What is surprising is that the prison holds mostly prisoners who are due to be released after long sentences of many years, which shows the extent of how bad the conditions must be for 'due to be released' prisoners to riot. The prison authorities are spilling out the usual claims of screw shortage for the lockdown or a drug epidemic but it seems even clearer now with a riot or disturbance in a prison occurring every month and the worst prison riot on prison island since the Strageways riot 20 years ago that the state is losing control of the over crowded prison system, as the repression on prison island increases with a capitalist system transforming itself even more to prevent any more outbreaks of disorder, rebellion and illegalism that occur with more frequency.
A chronology of recent escalating disorder on 'Prison Island':
HMP Swalesdale – December 23, 2016: Just before 'capitalist day' (Christmas) 60 masked prisoners take over a wing. The riot lasts for 6 hours, extensive damage is done to the wing, fire extinguishers let off and pool balls thrown at screws. Illegally smuggled in phones show rioters in full masks and chanting loudly 'Swalesdale is burning!'
HMP Hull – December 16, 2016: Fifteen prisoners being transferred from the riot at Birmingham cause a disturbance as they arrive at Hull prison. Prisoners inside the prison go on a violent rampage, attacking screws and set fire to CCTV cameras. Screws were set upon and prisoners refused to return to their cells after the men from Birmingham arrived. The 1,000 inmate prison is put on lockdown after the riot.
HMP Birmingham – December 16, 2016: A 12 hour riot starts over a lack of access to TVs and gym for prisoners. Over 600 inmates go on the rampage setting fires, breaking windows, destroying whole wings, looting riot gear and torching records plus to finish it all off throw paint at the riot cops who assault the prison. Hundreds of riot cops were sent in to deal with the chaos described as the worse since the Strangeways riot 20 years ago.

HMP Moorland – November 20, 2016: Ten prisoners manage to smash up 36 cells causing fire and water damage to one of the wings of the prison. Again riot cops are sent into quell the riot.
HMP Bedford – November 6, 2016: Over 230 prisoners went on the rampage. The inmates flooded the jail's gangways, seized keys from screws, broke into medicine stores and sparked small fires. The violence was brought under control after an operation that lasted more than six hours, finishing when armed cops and flash bangs are used against the prisoners.

HMP Lewes – October 29, 2016: A riot unit had to be called in after inmates rioted at Lewes prison in East Sussex. Four screws retreated in fear before the chaos was brought under control.